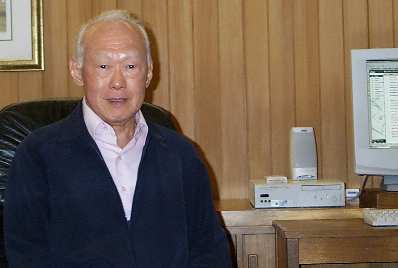 Lee Kuan Yew was this city-state's first prime minister. He's now the "Senior Minister" of Singapore. Whatever you think of his politics, which emphatically do not conform to some fundamental American political values including untrammeled free speech, his leadership has been serious and strong.
Singapore is trying to move into a new era, and it's facing some choices that clearly are uncomfortable for Lee and his colleagues in the government and industry. They are trying to move toward an economy based as much or more on knowledge as the manufacturing, financial services, transportation and tourism that have largely sustained this tiny place for the past generation.
Over the past four days I've interviewed Lee and leaders of the government's economic and telecommunications agencies, and visited two of Singapore's key research labs. They know what they want to do. Whether they'll be able to pull it off is not something I can judge right now. But they are, it seems, doing some of the right things.
I'll have more on this in coming days.
---
Hong Kong's Amazing Telecoms
One of Singapore's main rivals in the region is Hong Kong. Each has some advantages, but one of Hong Kong's main strengths is its telecommunications scene — probably the world's most competitive.
More in my latest column.