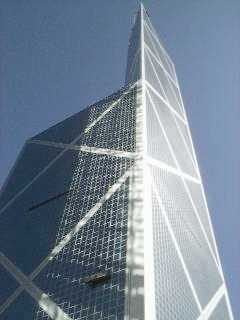 This masterwork of architecture, designed by I.M. Pei, is the Bank of China Tower. It's not just one of the two or three the most striking buildings in Hong Kong. It's one of the world's great structures.
The tower symbolizes many things. One inspiration, according to the bank's Web site, is the "elegant poise of bamboo," where each section of the trunk propels new sections higher.
Bamboo is one of the fastest growing plants in the world. That, too, seems symbolic. Hong Kong's economy is a masterpiece of booms, where markets climb skyward like bamboo shoots that grow more rapidly than any other plant.
But Hong Kong's markets don't defy gravity for long. They tend to collapse, with devastating consequences for the people who got into the game late. It's been that way for decades in the real estate market. More recently, mania arrived here in the guise of the technology revolution.
Nowhere have this entrepreneurial city's manic-depressive financial tendencies been evident than in the Internet economy. It took off late last year and early in 2000. When the U.S. Internet market caught a serious flu last spring, Hong Kong's dot-com wonders, many of which were the so-called "GEMs" of the local equities market, caught the proverbial pneumonia.
GEM is short for the Growth Enterprise Market,, which the Stock Exchange of Hong Kong launched a year ago. With a strong focus on technology stocks, it was another of the many NASDAQ competitors that have sprung up around the world in recent years.
In the heady days of the dot-com bubble it all seemed like a fine idea. Maybe it will be in the end.
But the subtitle on GEM's home page — "A 'Buyers Beware' Market for Informed Investors" — seems to have been ignored by a lot of the tech-crazed folks who raced into the market.
Chinese portal sites were particularly huge. Now they're "a graveyard," says Dan Schwartz, publisher of the Asian Venture Capital Journal, which is based here and in Silicon Valley. "It was nuts."
The GEM stock index is almost two-thirds off its high — the second-worst showing among tech-oriented exchanges in Asia, according to a recent survey by Reuters. The volatility is no surprise, given the specious business models of some of the companies that managed to pull off initial public offerings before the dot-com bubble deflated.
As of last week, 36 of GEM's 49 listed companies were selling below their offering prices, said Reuters. Of the seven companies that were part of GEM at the exchange's launch, not one was above water.
Oddly, in contrast to the slew of dot-com closings in the U.S., few of Hong Kong's dot-com disasters have gone entirely out of business. The only significant failure was an online bookstore that was aiming to be the Chinese Amazon.
Cultural differences are one reason, says Poh Lee Tan, partner and head of the Information Technology and Communications Group at the Hong Kong office of Baker & McKenzie, a global law firm. She looks for lots of consolidation, but sees it happening in ways designed, in part, to save face for the people involved.
Not too many of the dot-coms are in a position to buy out others in the genre. Brick-and-mortar companies are now looking over the ailing dot-coms, but they'll be looking more carefully than retail investors apparently did in the public markets.
"There are going to be deals," Tan says. Potential buyers "can afford to do more due diligence, something that was seen to be a luxury only a few months ago."
---
Ellison Doesn't Give Up
Two years ago, Larry Ellison announced what sounded like a fairly audacious, if entirely sensible, plan. He and computer hardware partners would sell boxes that would act as Oracle-based servers and use no Microsoft software.
The notion hasn't changed, and server appliances have become big business. Oracle has hardly been a leader in the category.
Ellison doesn't give up, though. In an announcement at the Comdex show in Las Vegas yesterday, Ellison gave the scheme an upgrade (Mercury News).
It's now bundled with Oracle 9i, the newest version of the company's software, and has the fairly intriguing support of hardware giant Compaq Computer. The latest appliances will be Web and application servers.
They're also part of Ellison's jihad against Microsoft's vision of client-server computing in favor of a fairly pure form of network computing. In the latter model, almost all of the intelligence — and all of the data — resides on servers, which dish out information to devices at the edge.
Ellison is right that personal computers are still too complicated and unreliable. He's wrong, I suspect, if he really thinks all intelligence belongs in the center of the network.
The world has changed. Peer-to-peer computing, which uses the power of the machines at the edge, is making more and more sense. And it's a lot closer to Microsoft's vision of the world than Oracle's.
There's room for both, of course. But Oracle would be wise to look at lot harder at P2P, as it's known. This wave is just starting to gain strength. Whether it's a Tsunami is still unknown, but I'm not betting against it.
---
A Gift for All Time
My father said there were TV Monsters. They were evil televisions, and they lurked in a dark, scary forest where they loved to gobble up little boys and girls.
There was a way to get past the TV Monsters. They couldn't hurt you if you held a book in front of your face.
I learned to read when I was very young. I love books, which take me into realms beyond TV and even real life. I hope you're encouraging your own kids to read. I hope you read to them.
Not all kids in Silicon Valley are as fortunate as I was. That's why I strongly support the Mercury News' annual Gift of Reading book drive.
As the holiday season approaches, please help out. You can drop books off at the newspaper or participating libraries and bookstores. Or just send money — some of you have plenty to spare — and the organizers will buy and wrap the books. Look for posters with details or call (408) 920-5755.
Let's show all of Silicon Valley's kids the way past the TV Monsters.