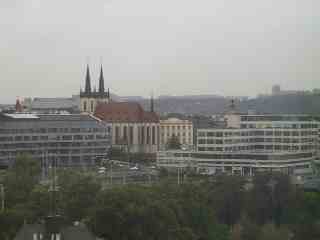 This is a city where history runs smack into McDonald's. The cultural clash is almost disorienting.
The ETRE conference begins tomorrow here. I'm moderating a couple of panels about marketing, privacy, security and other issues relating to e-marketing and the Net in general.
I'm also going to visit some interesting people including Geoff Goodfellow, who founded RadioMail and became Silicon Valley's most prominent expatriate here. Look for postings on all of this during the week as I have time.
---
AOL's Tactics
More reasons why America Online's buyout of Time Warner is a red flag for competition:
In this Washington Post story, we learn about Time Warner's onerous terms for Internet service providers that want to offer their service through Time Warner's TV cable systems. They're being offered access, "but only under conditions that would give the New York media giant a huge piece of their revenue and control over crucial content."
Now the Post reports AOL's restrictions on Disney, aiming "to deter users from leaving AOL's network to reach competitors on the Web."
Then there's AOL's song-and-dance routine on instant messaging, in which it claims to support the concept of having messaging systems interoperate but is adamantly opposing measures (eWeek) that would ensure interoperability.
The Federal Communications Commission has been a patsy on this issue, but may be gaining a backbone. The Federal Trade Commission, meanwhile, appears to be more anxious to help competition. With the European Commission apparently about to sign off on the deal, it's up to the U.S. pro-competition forces to keep consumers' interests foremost.