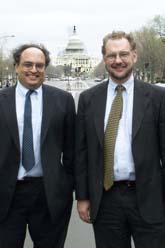 Well, not exactly. But Bay Area universities — Berkeley and Stanford in particular — have a habit of giving leaves of absence to faculty members who become chief economists at the government agencies that have the most impact on the technology world.
Above, from left to right, are Jeremy Bulow, Tim Bresnahan (both from Stanford) and Howard Shelanski (Berkeley). I explain what they do in my Tuesday column.
---
More Patent Absurdity
Rich Gray, a prominent Silicon Valley attorney, agrees that the patent system is out of whack. He notes two related announcements, and offers this interesting analysis.
---
MicroStrategy Impodes, Small Investors Lose
The business media have done little but fawn over Microstrategy and its colorful leader, Michael Saylor, since the Washington-area technology company rose to prominence during the past several years. MicroStrategy's stock blew to smithereens (Mercury News) yesterday when the company "restated" revenues and earnings. To restate such numbers is almost always to discover (or have auditors or government regulators strongly suggest) that the numbers weren't as large as previously stated, and Wall Street goes predicably berserk when such things occur.
The Washington Post's coverage today has a story about Saylor, whose shares dropped $6 billion in value, leaving him with a tidy $3 billion or so. Saylor naturally shrugged it off. He should. He's still fabulously wealthy.
Buried in that story were the real victims of MicroStrategy's aggressive accounting methods — the small shareholders who relied on the published numbers and the uncritical endorsement of Wall Street analysts. This sort of thing is going to happen again and again in the technology field. Count on it.
But I have no sympathy for the gamblers, the momentum players who bought the stock simply because it was going up and was "an Internet company." They're stupid, and greedy, and they don't earn anything but a lesson. I hope they didn't spend their childrens' college money on this stuff, but no doubt some did.
---
3Com Gets Leaner
Networking equipment company 3Com is doing the right thing by shareholders, by contrast. It's shrinking the company by selling the pieces that are worth more in the open market and quitting markets where it can't compete.
The company expanded too fast a few years ago, buying businesses — including modem companies — that turned out to be dogs when prices collapsed. But 3Com's purchase of Palm Computing, and subsequent spinoff, were extremely smart.
Eric Benhamou, 3Com's able chief executive, deserves credit from shareholders for doing the right thing.
---
William Kennard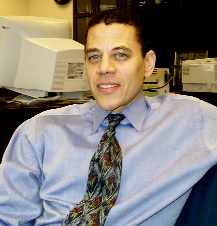 The Federal Communications Commission chairman is smart, talented, affable and tough. He needs all those attributes in this nasty city.
In a long interview yesterday, he talked about his leadership style and the issues facing the FCC. A substantial part of the conversation was about what it means to be the first African American chairman of the FCC, and how that affects the way he runs his life and his agency. Thoughtful stuff, and I'll tell you more in an upcoming column.